Negative Splits
One of the hardest things to teach athletes who do steady state events such as triathlons, bike time trials and road running races is negative splitting the course. In other words, the second half should be slightly faster than the first half. Last week I spoke at the Serotta International Cycling Institute (SICI), in part, on this topic. The following are points I made in the talk.

The 51-49 principle
* Generally, the first half of a 10-minute or longer time trial should be completed in 51% of total finish time (Foster 1993, Robinson 1958)
* In road running nearly all world records have been set with the first half run slightly slower than second half (50.5 – 49.5)


Reasons behind the 51-49 principle
* Go out too slowly and you never 'catch up'
* Go out too fast and acidosis increases rapidly (acidosis is inevitable for steady-state events lasting less than ~60-75 minutes)
* It's easier to tolerate high acidosis for short periods than long
* It's easier to tolerate high acidosis at the end rather than the beginning

Why don't riders follow the 51-49 principle?
* They lack confidence that they can finish strongly
* They have a misguided belief that time 'gained' early in the race is greater than that gained late in race
* They have the best of intentions but lack self-control

Accompanying are two examples of steady state rides by the same athlete. In the negative splits example he split the course 50.1-49.9. Nearly perfect. In the positive split example he went 47.4-52.6. In both races the courses were not substantially different in terms of grade changes in the first versus the second halves. If you look on the left side of both charts you will see his "VI" (Variability Index) for the negative split was 1.08 and for the positive split it was 1.15. The lower this number is the more steadily the athlete rode and generally the less energy that was wasted due to frequent accelerations. This, again, lends credence to the adage of negative splitting the course.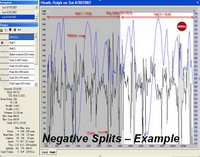 While for longer steady state events it is almost a certainty that you will race better by holding back a bit at the start, it is a rare athlete who actually does it. I find this is the most difficult skill there is to teach the athletes I coach and yet the most basic to their success. We work on it frequently in training. But training doesn't have the same emotional baggage that racing has. The key to negative splitting successfully in a race is to mentally prepare yourself to hold back initially. This can be very difficult to do if you are in a duathlon or running race and scores of people are passing you for the first mile. It takes great discipline to hold back, but realize that all of them will come back to you later. Failure to get this basic skill right generally means the athlete will seldom achieve their potential in such events.
Thanks to Arnie Baker for contributing thoughts to this post from his excellent book, Smart Cycling.